Booking.com has awarded Norwegian Wood best guest review award of excellence
Isn't it good.
Norwegian Wood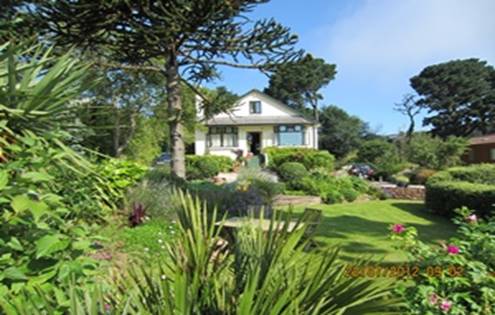 Norwegian wood
Hollicombe lane( off Tarraway road)
Preston,Paignton
TQ3 2DT
www.organicbedandbreakfast.info
norwegianwood@phonecoop.coop
01803 528575
07913357890
Hotel staff

10.0

Service / Facilities

9.4

Cleanliness of your room

10.0

Comfort

9.5

Location

9.7

Value for money

9.5
Based on 54 guest reviews.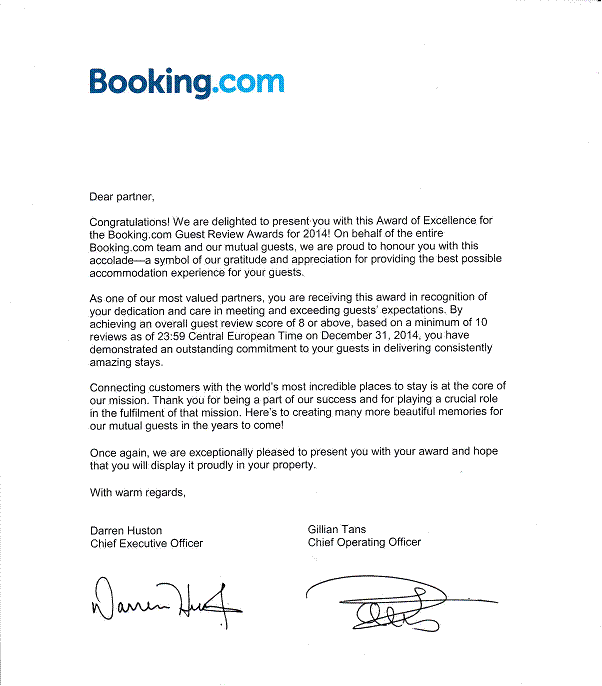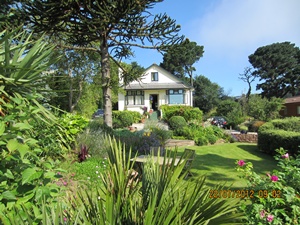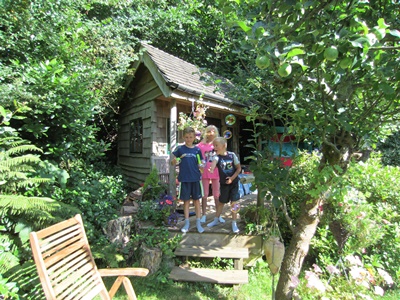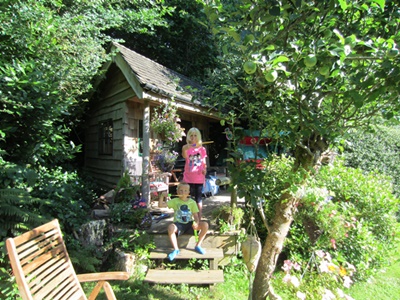 spot the differences between these two photos.
Norwegian Wood is an unusual 1925 house overlooking the English Riviera providing sea air and colour that will relax and revitalise, whether you visit for business, health or pleasure. Only fifteen minutes drive to Totnes.
John and Heather offer you an individual and personal welcome.
Sit in the garden under the monkey puzzle tree ( illuminated gardens at night)and the walnut tree with our cats Daisy and Blossom and take in the stunning views of the sea. We are open ALL YEAR /christmas,easter and bank holidays offering sustainable accommodation of a high standard.
Start the day with a healthy, organic, full-english meat, vegan, lacto-vegetarian, wheat-free, raw food or other customised breakfast to suit your dietary needs, Breakfast is always conventionally cooked Aga or convection never microwaved! Organic beverages and filtered drinking water in rooms.Organic Packed lunches.
You could book a one hour consultation with Heather ( Member of the Institute for Learning, federation for Nutritional therapy practitioners)for Iridology and nutritional naturopathy the following morning or during your stay,
Book a group/family workshop on taking your own health on your own shoulders with nutrition,naturopathic nursing techniques such as Castor oil packing,isopathy,skin brushing, enemas,juicing,cellular health using the solar and lunar calenders. Click on nutritional naturopathy for more details.
Then maybe visit one of the many nearby attractions, three minutes walk to Hollicombe Beach. Close to Institute beach,Preston Sands, Scadsons wood, Paignton geo play area, English riviera , Cockington,Totnes. Close to local bus/train/boat routes.We are a stones throw from the John Musgrove Trail and the South West Coastal path.
All our food is certified organic, free range and locally sourced, if the provenance, quality and taste is excellent.
We are a non-smoking, ecologically sensitive household committed to recycling and laundering our own linens in environmentally and skin-friendly detergent.
We welcome families and their children, Rail enthusiasts,bat and butterfly specialists,walkers, divers, surfers, cyclists, hikers, artists, photographers. We can cater for a family or group up to seven with private bathroom and lounge with fantastic views of the sea. Singles/doubles /twins share bathroom and lounge.
There is plenty of safe parking on site.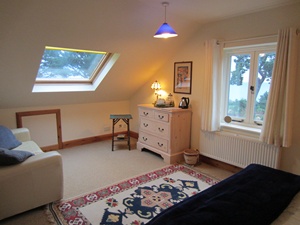 Family room with sofa bed and z bed.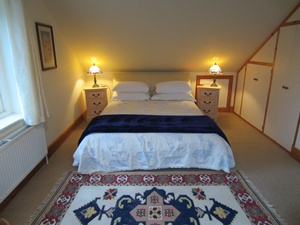 Family room with extra sofa bed and z bed
Tariff.
Family room £70.00pn+breakfast based on two people sharing.
Free for two children sharing double sofa bed up to 6 years old.( over six £6.00 surcharge.)
Singles £45.00 pppn inc of breakfast ,share bathroom and lounge.
One double room £70.00 pn+breakfast with one single bed FREE for
one child up to 6 years old ( over six £6.00 surcharge.)
Shares bathroom with family room.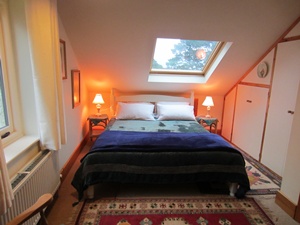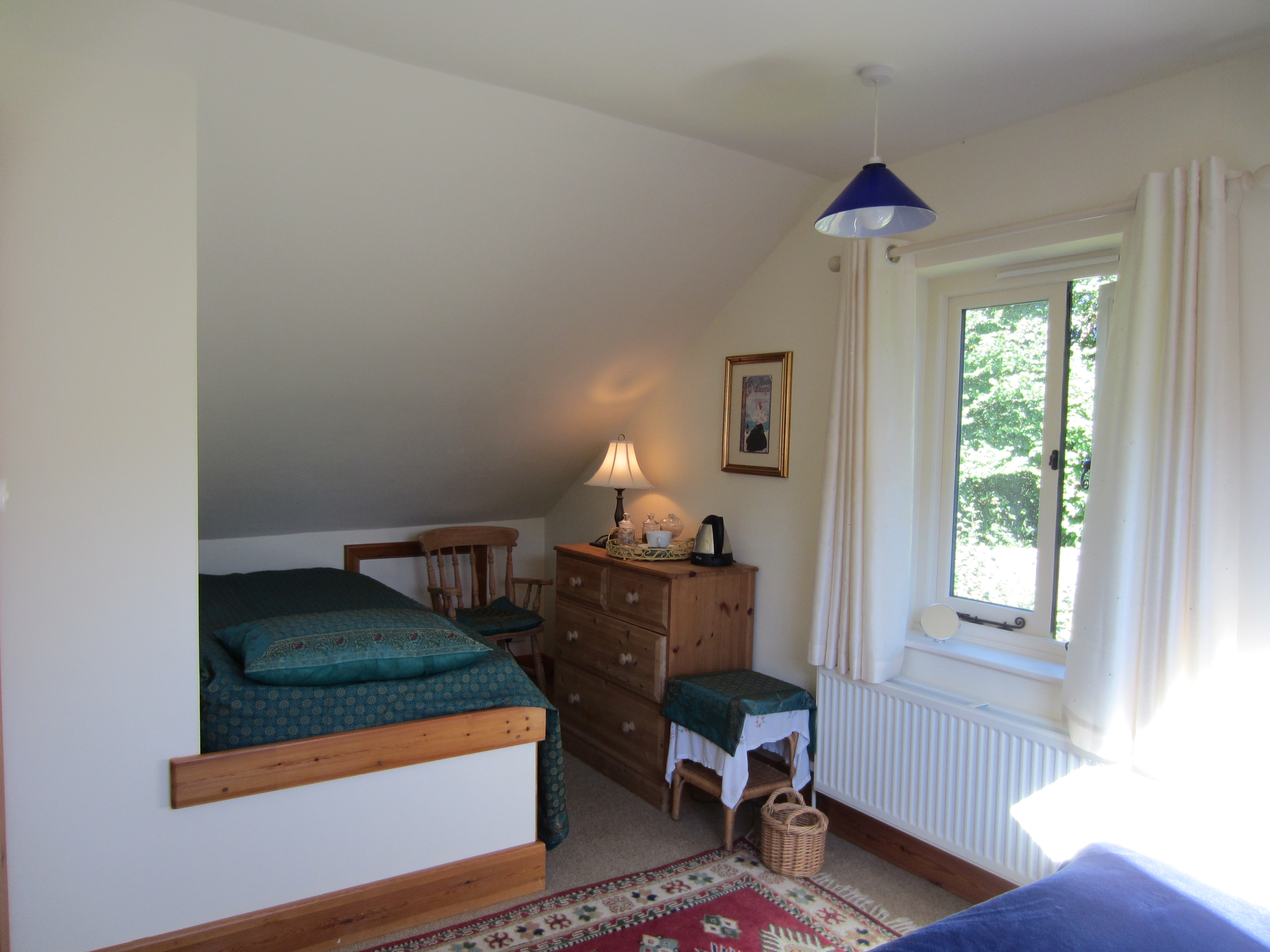 Double room with extra single bed.

Payments
Bank Transfers.
Deposit non refundable £60.00 for double£40.00 single secures your booking if not booked with Bookings.com
Bank transfers of FULL AMOUNT in advance of departure day..
Cash for full amount on departure.
BARCLAYS BANK.
J and H L Nicholson .
sort code : 20.60.88
account number: 10666343
IBAN: GB09BARC20608810666343
BIC-SWIFT: BARCGB22
Things to do.
Nutritional Naturopathy/Iridology analysis .( donation )
The Little Theatre Torquay.
Torquay Tennis Club.
Kirkham House.
Kents Cavern.
Compton Castle.
Berry Pomeroy Castle.
Totnes Castle.
Steam railway observation.
Geo Play park.
South West Coastal/Cycle Path .
John Musgrove Trail.
Riviera Centre.
Quest.
Torre Abbey.
Occombe Farm.
Agatha Christie Tour.
Transition Town Torquay and Totnes .
Living coasts.
Paignton ZOO.
Red Arrows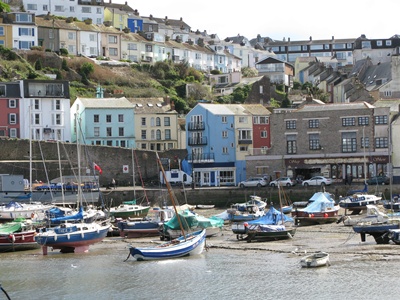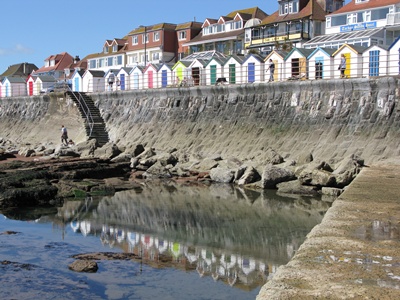 paignton beach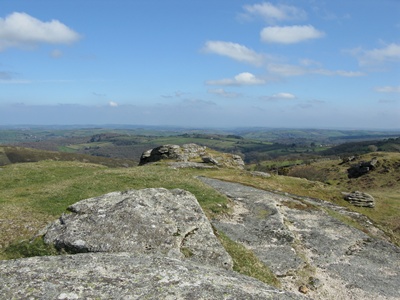 Dartmoor.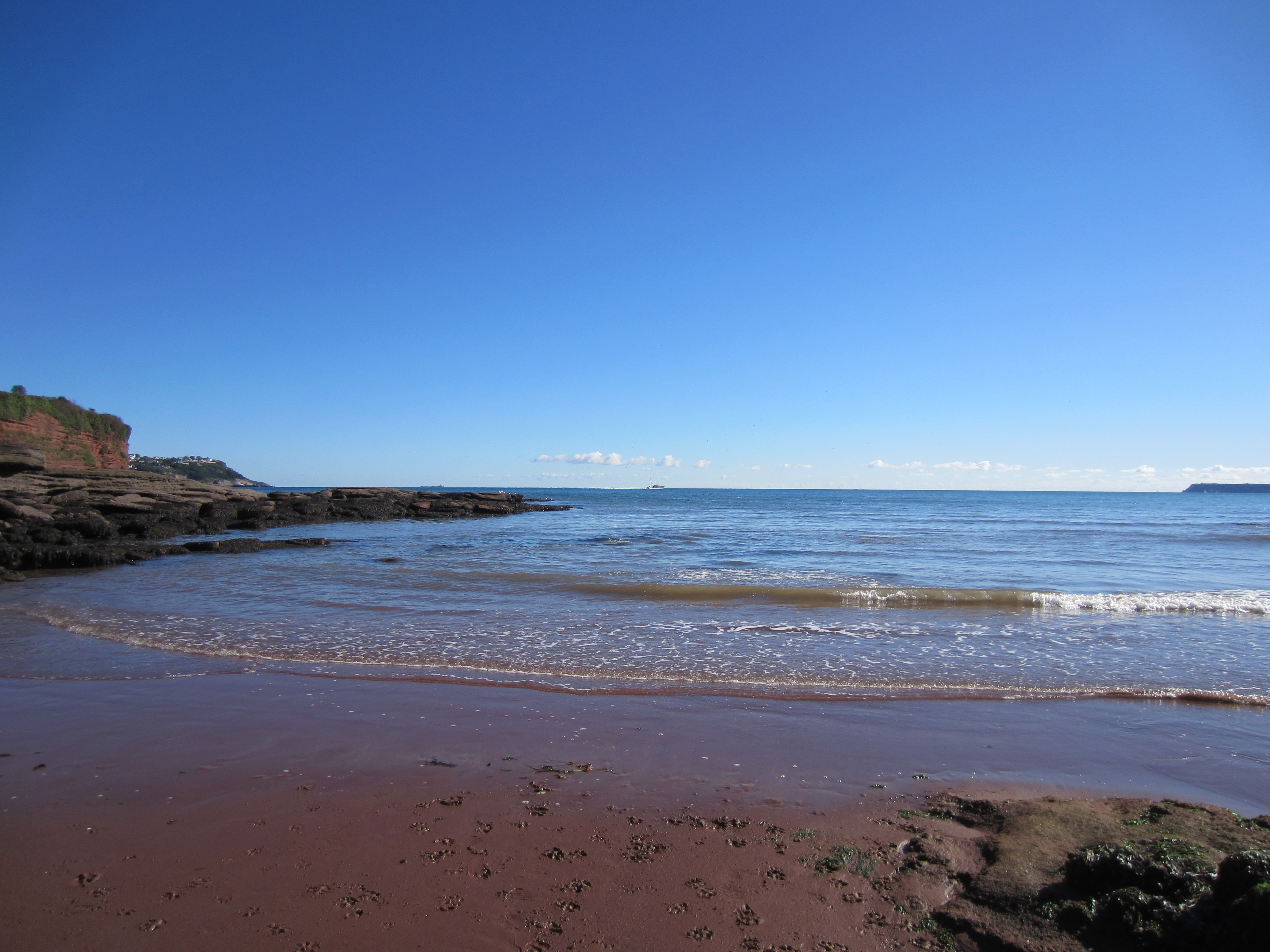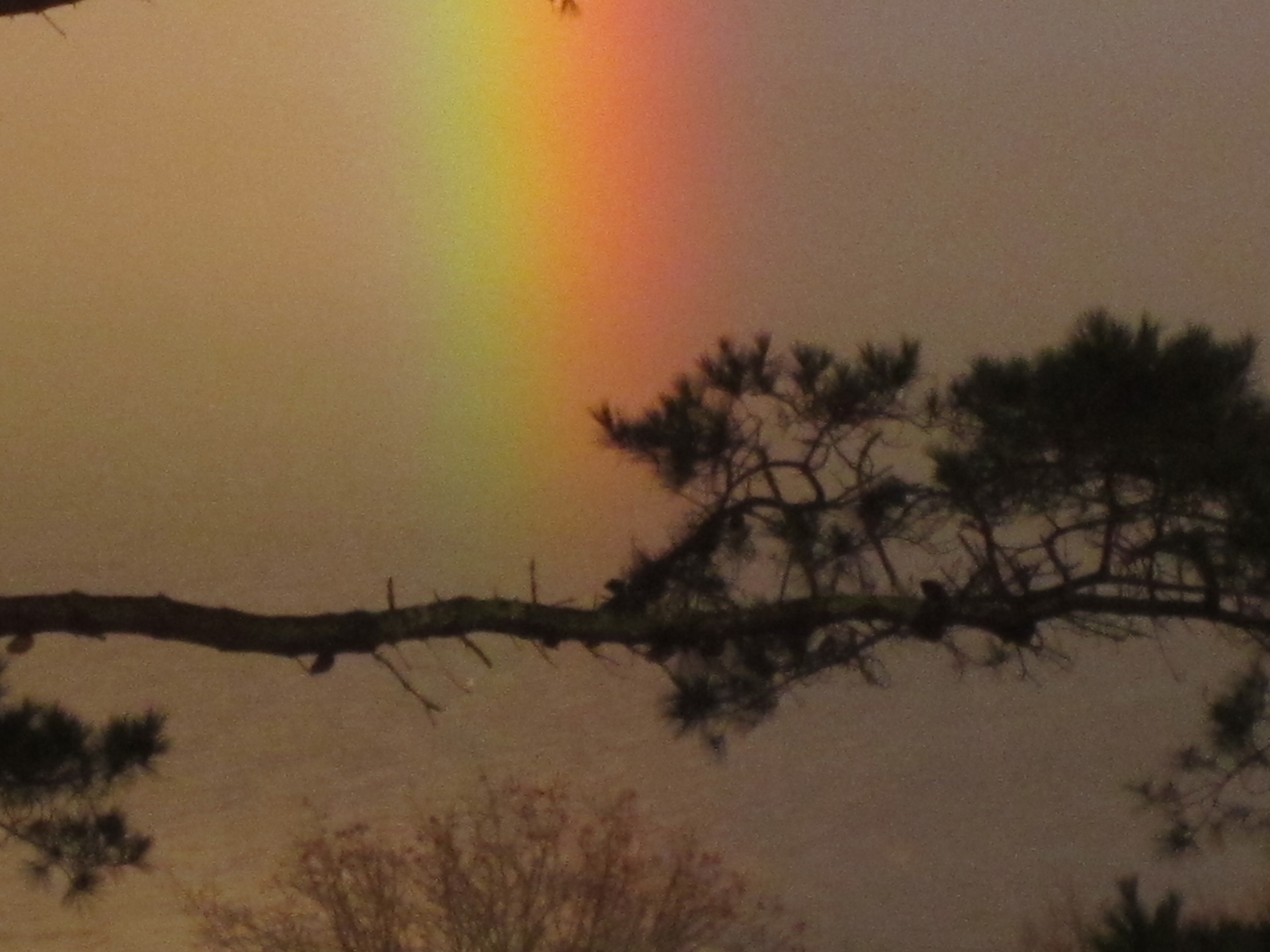 View from accommodation
Breakfast Menu
Traditional meat, vegan and vegetarian..Fair trade..Free range , outdoor reared and organic locally sourced when possible.
Muesli, Porridge, Cornflakes.Yoghurt.
Juice of the day.
------
Full Traditional English: Bacon, sausages, mushrooms, tomatoes, beans and a fried egg.
Vegan: Leek and potato sossages with baked beans, mushrooms, tomatoes.
Scrambled eggs.
Poached eggs on toast
Mushrooms on toast
---
Brown or white toast ,oat cakes ,corncakes
Butter, marmalade, agave syrup.
Fresh ground coffee, Tea, roibosch, , fresh mint and rosemary,sage when available from garden.
EVENING MEALS to be ordered 24 hours in advance please.
1 KG Aga Warm Whole locally sourced Cracked Crab
supper.
generous salad, house mayonnaise and warm garlic
bread £25.00pp.
Whole roast garlic chicken.French bread and
butter . Salad.£35.00 for two, £45.00 for 4. £55.00 for six
Aga baked potatoes with prawns / hummus/cheese.
generous salad.
£8.00 per person.
Any menu requests welcome.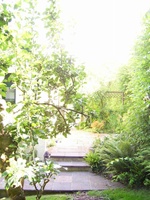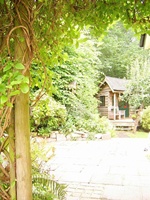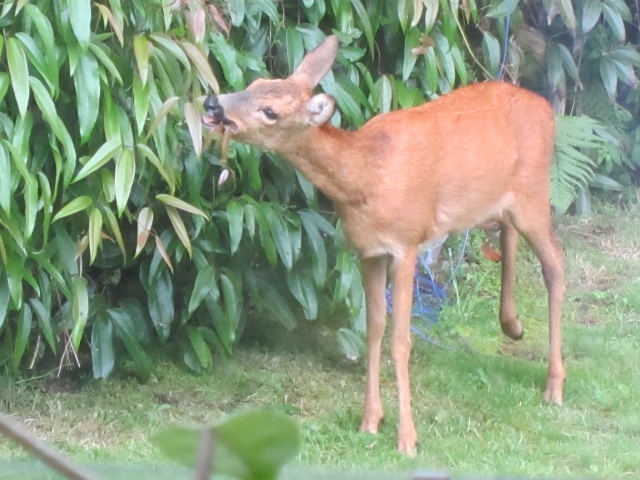 Holly blue butterflies, newts,deer,badgers,hedehogs,woods.
Shingle Chalet Nutrition/Iridology consultation room.
Added Value offered for Norwegian wood
Magnificent views of Torbay.
Organic beverage tray.
Menu :Fair trade, free range, and organic where possible .
Evening meals.
filtered drinking water in rooms.
Organic bed linen. Own Lounge .
Use of beautiful gardens.
Dietary requirements a pleasure for
Heather Nicholson D.th.D who is a Nutritional Naturopath/Iridologist with many years
experience.
Take your health on your own shoulders. Go to workshop link.
Visitors comments
What a lovely break we had, your place is great and the views were spectacular. We felt at home because of your hospitality and friendliness and we thank you sincerely for making our short break so pleasant. It is getting increasingly difficult to take my mother away for a few days because of her age at 92, her frailty and blindness from macular degeneration she has found so frustrating and devastating as all her hobbies needed reasonable eyesight, not to mention stubborness to listen to people and take their advice!! However I will try to encourage her to eat less sugar and go easy on the Listerine as it is so awful, but that may take a bit of time as she thinks it is the cure of all her allergies through neutralising the acid in the fruit or something and wont accept she is not allergic to many foods. Her mouth ulcers and thrush abated after she was told to take her false teeth out at night and brush them underneath, then leave them in Milton overnight, she believes that may have helped thrush but the mouthwash enables her to eat the fruit and chocolate etc. etc. that she says she is allergic to but I will gradually work on her !! Would it be possible for you to give me the name of the cactus syrup you recommended and also i see to my fury that I left my phone charger in the bedroom so If I send you a stamped addressed envelope would you pop it in the post for me, thank you. Once again it was lovely to meet you, give Blossom and Daisy a big hug from us and warm wishes from us too Theresa and Ivor xx
thank you for your hospitality in the last 2 weeks. The weather here is awful today. It has waited until we came home and didn't spoil our holiday! If it had been raining we would have done more WASGIJ! I have found The Great Train Robbery on the internet, not only the original picture but the completed jigsaw, so I now know the answer. I did have a clue from the few pieces we had put together.
We were very sorry to leave you and John and the cats and the lovely house. We loved both rooms we stayed in. There was a special atmosphere about the smaller room which looked over to the trees and the back garden. I liked the velux window over the bed so I could read in bed with the natural light above us. I could also see the TV screen whilst sitting up in bed in that room.
I appreciated the other bed as I could sit up in bed and rest my head on the headboard at the back. The pain in my leg has eased a bit more.
We loved the views from both windows in the bigger room. I have seen a lot of the pictures on your website but I can't see either of those views in the daytime. One was taken at night, and one from the front entrance I think. I was sorry I didn't bring my camera.
I was pleased that the taps on the washbasin in the bathroom were separate. Some people like the water to be combined but I think the water from the cold tap tastes better when not joined to the hot tap. Our daughter has had hers converted to a combination in the kitchen and bathroom but not the cloakroom basin. If I want any water to drink I go there! She does have filtered water but it is for the cat, who is not in the best of health.
I will try to do a record of the trips we went on, but had to thank you first.
Pat (and Ian)

thank you so much for a really pleasant B&B experience at the Norwegian Wood - good luck & best wishes from Rob, Becky, Toby & Holly xx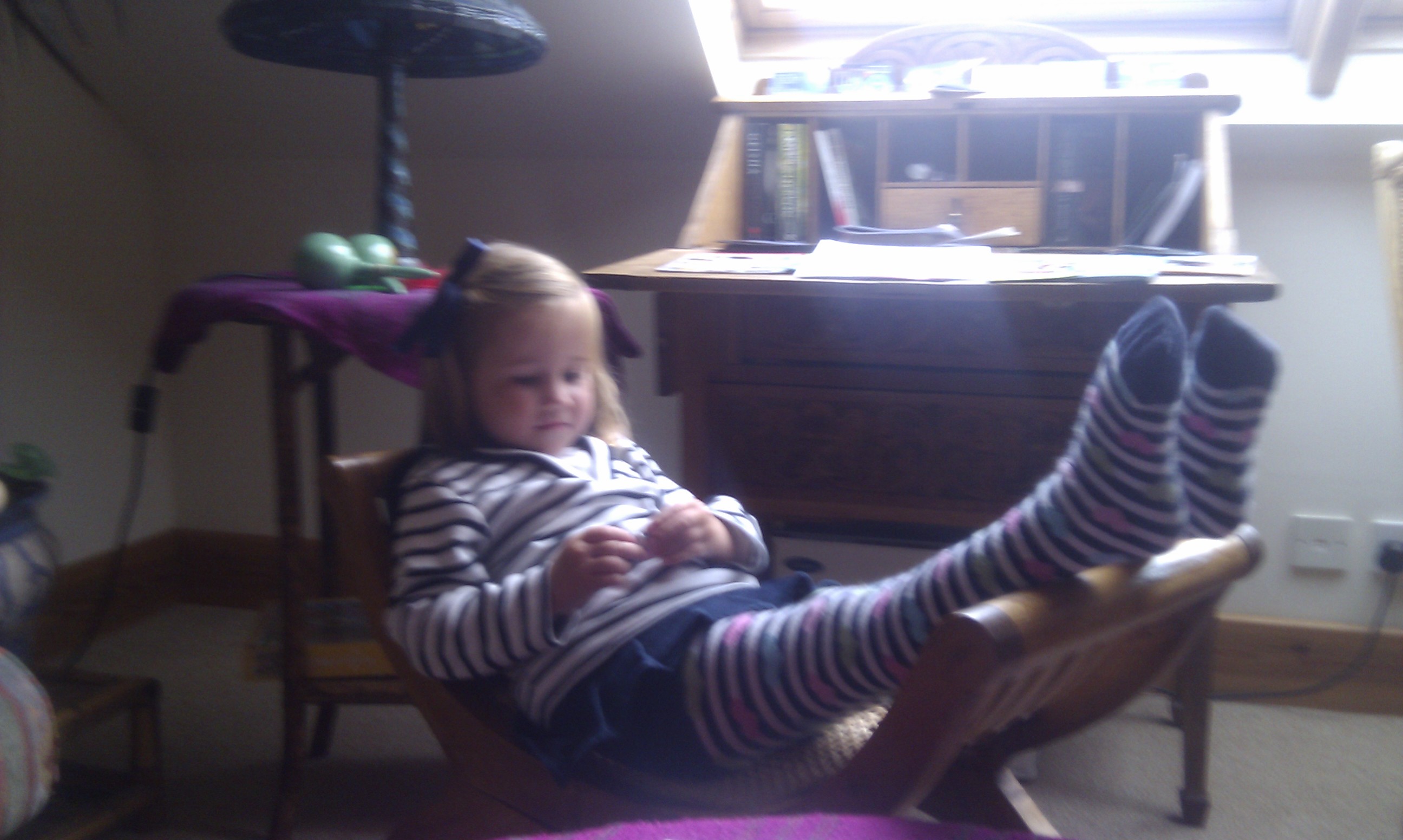 How are you? Sorry for a delay on getting this feedback to you. The truth is I have been thinking about Torquay a lot since returning, it was such a good trip and the sea and friendliness of our stay has stuck! Here is a bit mainly from Brayley, followed by a bit from me on the advice and diagnosis you gave me. I have attached some photos you might like to keep or use for the website, Preston beach, Torquay harbour. They are big files will send some following others on.

We hope you have fully recovered from your illness now, and we have very much appreciated the welcome and kindnesses you showed us during our stay with you when your energies must have been so depleted. It felt very much as though we were staying in your home, but with the privacy of our own very comfortable and exceptionally equipped room and lounge with its wonderful views from one side of the bay the other. Stunning! Preston and its lovely stretch of red sandy beach, quiet and still much the same as it was in the 1950's when I visited as a child, is an oasis of calm between the bustling towns of Torquay and Paignton. And breakfast was unfailingly delicious with a wide choice and would suit anybody whatever their food preferences. The welcoming committee of Blossom and Daisy, two affectionate cats, was the perfect way to feel at home and we never tired of looking across the bay at any time of day or evening. A beautiful and thoughtfully finished Bed and Breakfast enabling complete relaxation.
Thanks for fitting me in for an assessment at short notice during our lovely stay at your house. I'm new to irridology and I was surprised and impressed with how much it picked up about my geneology and my health. I have been following your advice since returning and I have much more comfort in my stomach especially after eating. I wish I'd found out about some of the suggestions years ago! I will start the caster oil treatment soon. Still sourcing organic suppliers for things. Thank you for alerting me to the extent I was effectively poisoning my body and suggesting complimentary therapies which I'll begin taking up soon. I will report back with any news. Please give the cats a stroke!
Very best wishes,
Lou & Brayley
Thank you for a wonderful a couple of days, you made us all feel so welcome. The room was spacious, clean and comfortable, the breakfasts were tasty and the evening meal you cooked us was first class. I would recommend you to friends and we will definitely be back, if we're in the area.
Thank you, Chris, Laura and Eva.
Thanks Heather, for looking after me so well. I love the principles of what you're doing with Norwegian Wood – I can't imagine your guests ever feeling like they're 'just another customer'. The room & bathroom were beautiful, spotless and really comfortable – I immediately felt 'home from home'. My Aga-cooked dinner was equally unfussy, prepared with care, and really delicious. You were so helpful, thoughtful, interesting, and calm – all making it quite possibly one of my most relaxing nights in a B&B ever. Jane , London.
Wow! organic Heaven! totally lush food and hospitality,norwegianwood is a wonderful jewel in Devon's crown. Terry and Jay B.
Beautifully clean and spacious room,quiet and comfortable, with superb views of the sea, delicious breakfast, and gracious hosts for whom nothing is too much trouble. Henry P.
A big thank-you from us to heather and john for making us so at home in their lovely home. We were made to feel really welcome and really at home. Interesting chat, great views, delicious food and great location at a budget price, what more could you ask for! Would highly recommend!
thanks for a lovely weekend hope to see you soonx Ameet Hannah Rohan and Mala
To Heather and John Nicholson of Norwegian Wood Organic B and B, after our weekend spent in your lovely Bed and Breakfast I wanted to take the time to thank you for completing a perfect little weekend get-away.
We both felt very welcome and relaxed throughout the stay thanks to the great hospitality, tranquil settings, gorgeous rooms and fabulous food. It was a trip that will no be forgotten and we look forward to repeating again in the future.
Thanks again, take care,
Nathanael Newton


Just wanted to say a big thanks for making me feel so welcome during my stay at Norwegian Wood.

It was the perfect location and an excellent find!

It's close to Totnes where I was doing a yoga course. It was a scenic and easy drive which was well rewarded due to the location of your home. In between yoga sessions, I could take lovely beach walks on the almost private Hollicome beach or walk further afield into Painton and Goodrington beach.


The breakfasts were excellent - very tasty, filling and nutritious. I have even changed some of my eating habits as a result of some of your suggestions and feel much better for it.

I loved the views from the bedroom and the garden to the sea. The room was very comfortable and I loved the lounge seating area and bathroom. Everything was so clean and homely. Definitely a home away from home, a perfect retreat, and one that I hope to return to some day soon.

Best wishes to you and your family

Susan Sullivan
Basingstoke, Hants
PS - I am still not eating bread and cheese, cut down on the coffee (alot) and drinking a daily cup of linseed tea (which is actually quite comfrting as a night time drink), even had a go at cooking. I brought the castor oil but haven't tried it as it seems a messy business! I do feel a bit better - thanks for your suggestions.
Thanks to Heather for her warm and professionel welcome at her peaceful haven on the busy English Riviera. A very comfortable room with far reaching views over Torbay and unique breakfast offerings, tailored for each guest! Heather has set a benchmark for the next time we stay in a b&b!
Mark and Claire.



Many thanks to you and Norwegian Wood for looking after my guests so well when they came to stay in July for my birthday.
As my house was already full to overflowing over that weekend it was nice to know that the 2 couples were going to be well cared for. Both sets of friends are discriminating travellers and expressed themselves delighted with the accommodation, the welcome and the excellent breakfast.
It will be a while until I have another 'landmark' birthday but will certainly bear you in mind for next time.
With all good wishes

Peter Brook
'One of the best B &B's I've stayed in, and the friendliest. Sausages to die for'. Wayne.

Just wanted to say thank you for the lovely stay. The pillows were divine, relaxing with such amazing views was restorative, and breakfast was scrumptious.
Thanks,
Laura
Dear HeatherDer Aufenthalt im "Norwegian Wood" hat alle unsere Erwartungen erfüllt: Freundlichkeit, wunderbarer Garten, tolle Aussicht aufs Meer, schöne Zimmer, gesundes britisches Frühstück und Nähe zu Bus, Bahn und Meer. Guter Ausgangspunkt für Wanderungen und Ausflüge zum Dartmoor, Totnes, Plymouth, Cornwall und viele andere Orte im Südwesten Englands. Wir empfehlen dieses B&B uneingeschränkt weiter.

Alex & Christin Willener-Linder, Lucerne Switzerland Our stay at Norwegian Wood has exceeded our expectations: Cordiality, nice rooms, beautiful garden, great view, healthy british breakfast and proximity to public transport and to the beaches. Good starting point for excursions to Dartmoor, Totnes, Plymouth, Cornwall and many other places in the South West. We recommend this B&B thoroughly.
Alex & Christin Willener-Linder, Lucerne SwitzerlandCheers
Alex
Hollicombe Beach.3 minutes walk from Norwegian wood.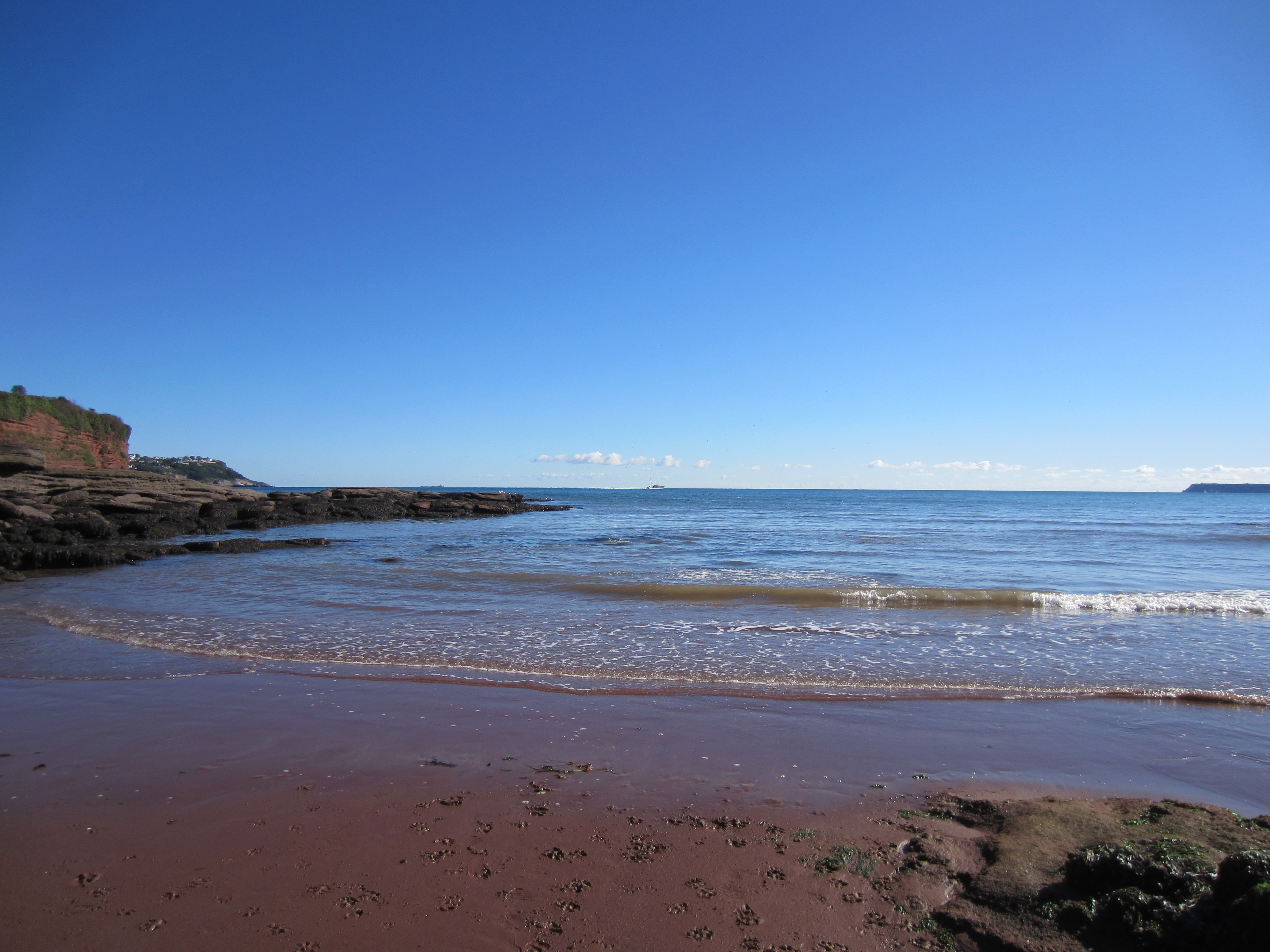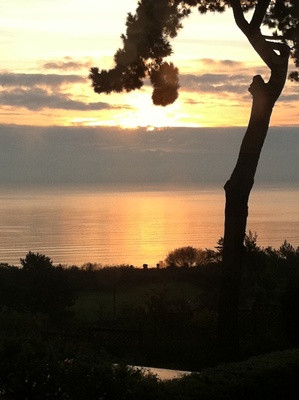 Sunrise.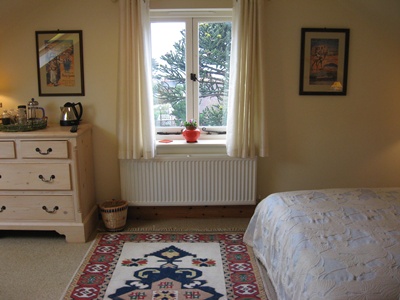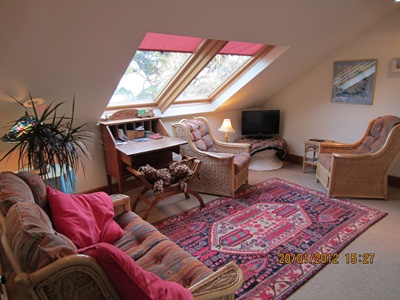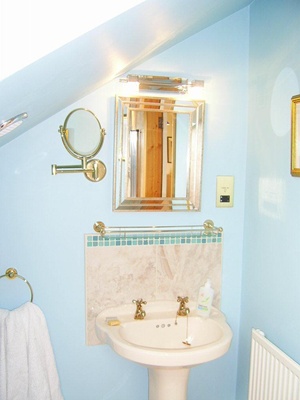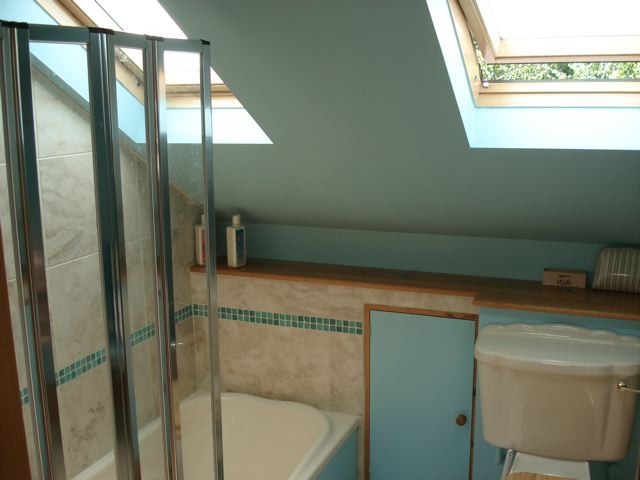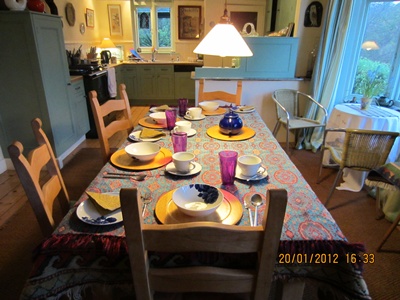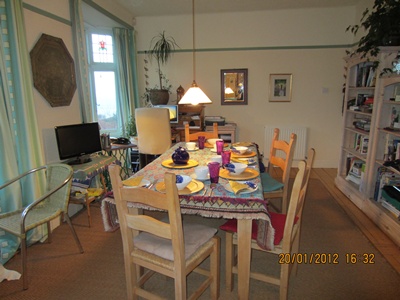 Norwegian wood shaker kitchen and breakfast room with
beautiful sea views.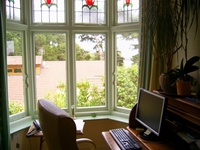 Rare oriel bay windows with original stained glass panels of
tulips.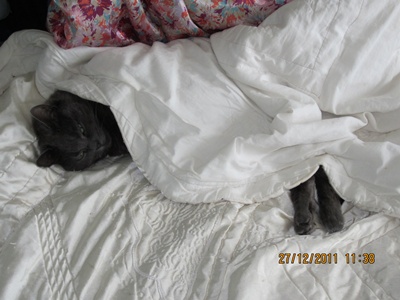 Blossom on my bed not yours.!!!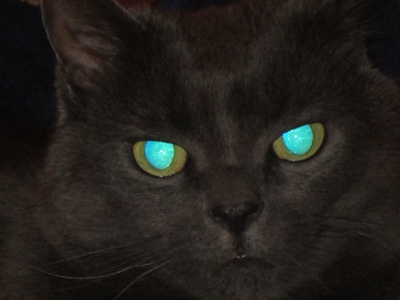 Blossom.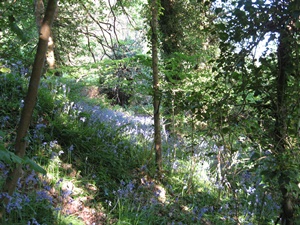 Blue bells in spring Scadson's wood.
January snow.
WIFI HOTSPOTS ALERTS
We hope all is well in the beautiful Totnes area. During our Devon travels last year,
we met several b & b owners who suspected WiFi was affecting their sleep. Like many people,
we too notice symptoms if we are exposed to WiFi for any length of time. My husband gets
headaches, and I have severe insomnia – when WiFi was installed in the library where I worked,
I became dizzy, sleepless, sick, and eventually had to give up work. (In France, many libraries
have removed WiFi due to health problems). We know others who, sadly, have had to
give up their jobs, and we also have many friends who, like us,had to cancel
a short break last year because there was nowhere healthy to stay.
Aware that Totnes and Dartington gently support a green, holistic, outlook, we thought
you might appreciate this email – it seems people quite often develop a sensitivity to
WiFi over time. Please share this with friends, particularly anyone with WiFi who is struggling
with unexplained poor sleep or headaches, etc. As health news spreads, many families
may soon appreciate guest houses that use cabled internet/broadband (LAN) rather than WiFi,
perhaps, for example, with a few internet sockets in a lounge for laptops and net-books
(it seems many smaller tablets, except i-pads, may be able to connect via USB-to LAN adapters).
Two friends now have WiFi only by request in a furnished outbuilding.
After I had to stop work, I undertook some thorough health research: the warning science
is concerning*. I found a helpful website called www.wifi-warning.co.uk – do take a look.
I also discovered that, unfortunately, cordless phone transmitters can trigger symptoms,
such as an altered heartbeat. They use a similar, aggressive pulse to WiFi, known as DECT.
(Also, all BT 'hubs', bar the 3.0, emit non-stop DECT as well as WiFi, adding to the risks).
It was a relief to learn there are simple, healthy alternatives. May I share them with you?
My husband swapped his WiFi router for a wired router, plus internet sockets ('ports') for
laptops etc. They are easy to use, and simple to fit: LAN cable can run to them along the
skirting board, or outside along the wall: any cable supplier, or handy IT person, can
install them. (Neighbours' WiFi is usually weaker, unless installed near a shared wall).
Meanwhile, BT 'hubs' can be replaced with a wired router, or cordless phones
swapped for relaxing, ordinary phone extensions, or the new 'eco' cordless phones
made in Germany (e.g. Siemens), which are dormant between calls.
Four typical case histories Dr Tresidder, GP, has made public (with thanks to Dr Tresidder):
- "A 78 year old whose headaches so concerned me that blood tests, and MRI and
neurology opinion were sought (both normal) – his symptoms disappeared after
switching off his home WiFi hub router and cordless phone"
- An adult with "tingling of face and muzzle area, and loss of ability to speak and
think fluently when near a WiFi router"
- A fit 64 year old yoga teacher. After installing a new WiFi router he suffered
progressive tiredness, irritability, hip and other aches over three months. After changing
the wireless router to a wired one, he was restored to his previous health within 2 weeks.
- A boy, age 4. Three months after a dose of flu he remained unwell, with fevers
and poor sleep. He moved into his mother's bed; his father used the child's bed
and found it very hard to sleep there. The hospital could find no cause for the child's ill
health. A WiFi router was moved from the room adjacent to the child's bedroom and the
baby alarm (DECT) was disconnected. The child immediately returned to normal health.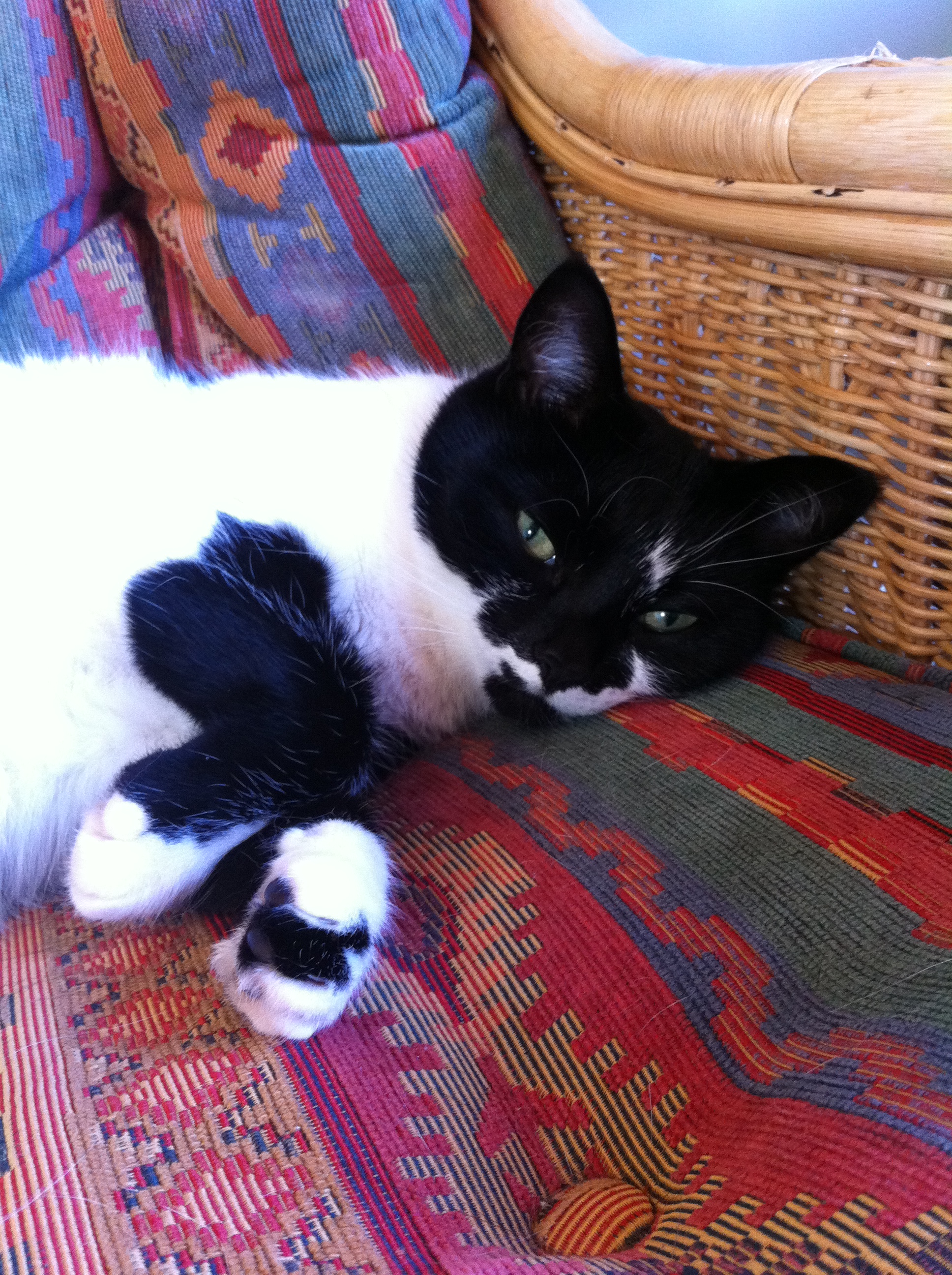 Daisy